From oil changes to tires, our tire & auto centres are equipped to service your vehicle.
Change Your Oil Change. Now you can protect your engine AND the planet.

Active Green + Ross offers an environmentally friendly oil change called Eco-Power. With each Eco-Power oil change you can reduce your car's overall environmental footprint.
Last year, Active Green + Ross Eco Power Oil Change program helped plant 2,432 trees through our partnership with Trees Ontario.
http://www.treesontario.ca/partners/index.php/sponsors
Now you can change your oil with Active Green + Ross to clean the environment and our air at the same time!
EcoPower uses up to 85% less energy to produce than oil refined from crude
EcoPower conserves resources and reduces dependence on foreign crude
EcoPower is a Synthetic Blend to provide extra protection and performance
Get an EcoPower Oil Change and we will plant a tree on your behalf!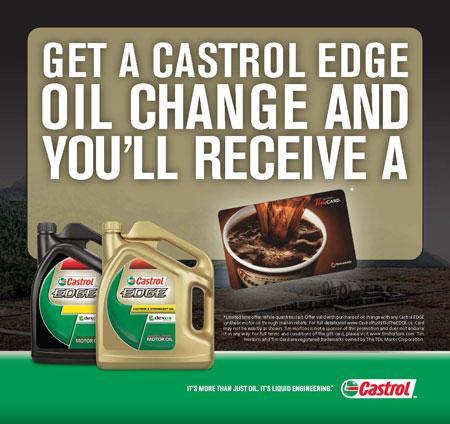 Get a Castrol EDGE Oil Change and you'll receive a Tim Horton's Gift Card
*Limited time offer. While quantities last. Offer valid with purchase of oil change with any Castrol EDGE synthetic motor oil through mail-in rebate.
For full details,visit the following website: www.CastrolPushItToTheEDGE.ca.
Our Contribution to Reducing Green House Gas Emissions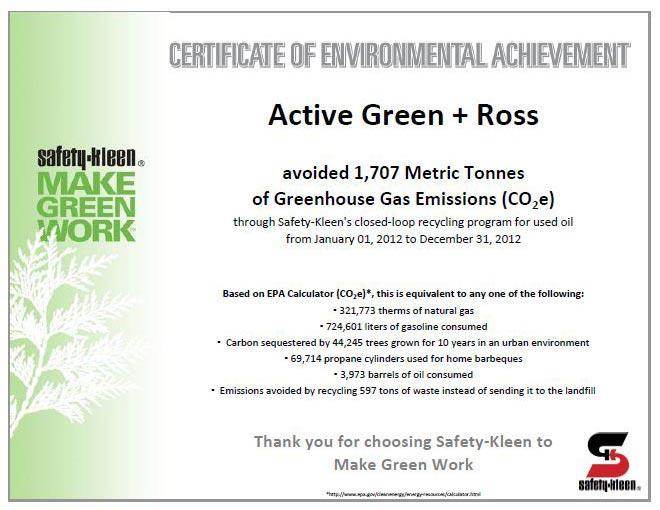 To get your vehicle's oil changed, please click here to locate the Active Green + Ross Complete Tire & Auto Centre nearest you. We also now offer the EcoPower Oil Change available at all of our locations.