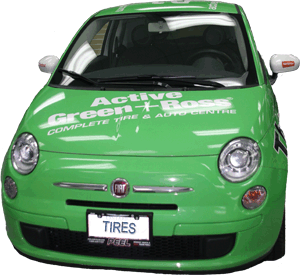 TORONTO, ON – February 21, 2012 – Active Green + Ross' first-ever "Re-Tire Your Ride" promotion was a tremendous success with grand prizes winners Louise Beard, (Tiny, Ontario), Mohammed Maseer (Mississauga. Ontario) and Gordon Hurley for G4s Secure Solutions (Mississauga, Ontario) each driving off in Fiat 500s.
"We're so pleased with Re-Tire Your Ride", said Andy Chiodo, Marketing Director for Active, Green + Ross, "it's the first time we've run a promotion of this scale and the response from our customers, our franchisees and our employees was just tremendous".
From October 15, 2011 to January 15, 2012, customers purchasing a set of Michelin tires at any Active Green + Ross location were automatically entered in the contest. Three Fiat 500s were awarded based on a random draw conducted on January 18, 2012.
"This is so great" exclaimed prize winner and new Fiat driver, Mohammed Maseer, "I was so happy with my new tires and now to win a car, it's just amazing". The winners were awarded their new cars on February 21, 2012 at the Active Green + Ross headquarters in Toronto, Ontario.
"Active Green + Ross prides itself on superior customer service and when you actually get to see how happy the winners are, well, it's very gratifying", added Mr. Chiodo. "And thanks to our partner Michelin who were a big part of this promotion"
ABOUT ACTIVE GREEN + ROSS
Active Green + Ross operate Southern Ontario's premier chain of Complete Tire & Auto Centres from Windsor to Ottawa and from Barrie to Toronto, with over 70 locations in Ontario. Active Green + Ross offers customers a complete line and selection of tires from the world's premier manufacturers.
FOR MORE INFORMATION CONTACT:
Andy Chiodo
Marketing Director, Active Green + Ross
416-255-5581
andychiodo@activegreenross.com