FRANCHISE INFO | FINANCIAL INFO | FAQS
In North America, franchising has become a popular way of getting into business. This trend has been attributed in part to the general principle behind franchising, which is:

"start with a system that has a track record, a defined market and controls in place. One that demonstrates the potential to provide a good profit margin in purchasing and has an aggressive advertising strategy. Combine these elements with the selection of a motivated franchisee, whose on-site presence assures responsible control, and the franchise should succeed."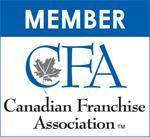 This principle will hold true with a total commitment by all the 'franchise team' members and a continual open line of communication with the franchisor.

Active Green + Ross Tire & Automotive Centre is proud to be a firm proponent of this concept and we invite you to become part of our franchise team.

2011 marks Active Green+Ross's 25th year Milestone as a member of the Canadian Franchise Association.
THE COMPANY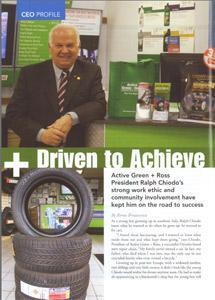 Active Tire & Auto Centre Inc. currently has locations in the Greater Metropolitan Toronto area and extends east to Ottawa, North to Barrie and West to Windsor, and is a growing independent group of tire and automotive service centres. The Company's founder and President, Mr. Ralph Chiodo began in the automobile service business in 1959. Active Tire began franchising in 1983 - and by 1992 was operating 22 locations in the greater Toronto area.

In early 1993 the operations of Green + Ross were purchased. It had been in a similar business in the Toronto and surrounding area since 1930. In late 1995 the two companies were merged to become Active Green + Ross Tire & Automotive Centre. All locations now trade under the name of:
Active Green + Ross Tire & Auto Centre
Although no formal studies of the Metropolitan Toronto tire market have been completed, Active Green + Ross is recognized as one of the best known companies in terms of market awareness, with respect to the retail sale of tires. This is clearly attributable to the length of time that the Active Green + Ross name has been operating, as well as the good reputation and quality of our products and services.
In addition to selling tires, wheels and tire accessories; Active Green + Ross Tire & Automotive Centre franchises also provide a line of name brand auto parts and motor oils. Special emphasis is placed on Regular and Preventative Vehicle Maintenance Areas such as brakes, suspension and front end repairs, wheel alignment, tire balancing and lube & oil changes.
Most locations are equipped and accredited test and repair facilities for the Province of Ontario Drive Clean emissions testing program.
Combining a thorough Preventative Maintenance Inspection process with these services, Active Green + Ross is poised to offer a full range of services to the existing computerized client base as well as new customers.
Active Green + Ross sells a wide range of tire brands Including:

In addition, we have private brand tires named "Active" or "Green+" manufactured by one of the major tire company's Custom Brand Division.
The wide variety of available tire brands attracts customers who appreciate the convenience to compare many tire brands at one location and obtain professional advice and service.
An Active Green + Ross Tire & Automotive Centre franchise offers individuals an opportunity to be in business for themselves while benefiting from the experience of the Company's management team.
IS FRANCHISING A WISE INVESTMENT
Franchising is considered the best method of getting into business today because you are joining a proven system which is capable of providing all the support and experience which is needed to be successful in todays' environment. In the final analysis, when you buy a franchise while you are in business for yourself, you are not in business by yourself, because you have the ongoing support of the franchisor. The other advantage of operating in a franchise system is the fact that you can contact other franchisees within the system and also obtain their advice and counsel. This is seen as a tremendous advantage because like yourself, other franchisees are striving to improve the return on their investment.
TURN KEY SYSTEM
In most cases, franchisees receive a turnkey operation; a system with a customer base already developed. The Company provides a support program outlining policies and procedures, training assistance and Company trademarks.

As an Active Green + Ross Tire & Automotive Centre franchisee, you will have the opportunity to experience the excitement of managing your own business, one with a legitimate consumer need and hopefully enjoy a head start on achieving success.
WHERE WE ARE LOCATED
Our shops are all located in high traffic areas which are banded by heavy residential and commercial population. Generally, we are located near other major operators such as Canadian Tire, McDonald's, Midas, Tim Horton's, etc. Many Active Green + Ross Tire & Automotive Centres shops are located in mini automotive uses such as auto glass shops, gas bars, Mr. Lube, etc. All these uses bring additional traffic to the location and they help reduce the occupancy costs.
CONVERSION OF EXISTING AUTOMOTIVE BUSINESS
Independents can convert their existing automotive operation into an Active Green + Ross Tire & Automotive Centre shop which will enhance their marketing and operational skills. This will result in increased sales and profits, thus increasing the value of their business. Generally, conversion to our program can be done for very minimal cost.
ONGOING SUPPORT
Active Tire & Auto Centre Inc. provides you with an area manager who is our field representative. Their responsibility is to assist you and to be available as required, offering administrative, operational and technical support.

Our Head Office group works as a tight team to provide assistance to all franchisee's with any concerns that arise. Equipment requirements and costs, advertising assistance, marketing, business knowledge, employee recruiting, accounting and financial advice are just a few of the area's that we get involved in with our Franchisee's.
PROTRACTOR SOFTWARE
Our point of sale software system is "Protractor" and was developed in conjunction with Active Green + Ross. It is very service oriented and supports our Maintenance Program approach to Customer Service. Combining a thorough Preventative Maintenance Inspection process with these services.
TRAINING
Our initial training program is tailored to the needs of the individual. You do not require prior automotive experience to own an Active Green + Ross Tire & Automotive Centre store. If you make a commitment to your business and have drive along with desire, you will be successful. Our initial training will provide you with the necessary knowledge and experience to serve your customers and operate your shop to our standards. From time to time throughout the year, we will provide you with courses that are necessary to keep abreast of the latest changes in technology. From time to time you may be offered courses on other topics such as proper telephone management, personnel management, record keeping, financial analysis, etc.
TECHNICAL TRAINING
Technical training sessions are provided at our training centre in conjunction with manufacturing experts and community colleges in such areas as tire performance, tire construction, sales and service, tune-ups, brakes, air conditioning, suspension, front end and other services that are generally provided at the franchised locations.

These sessions will assist to keep you current with the techniques and technology of today's automobile parts and service market.
DEALER MEETINGS
A benefit of belonging to the Active Green + Ross Tire & Automotive Centre franchise program is the meetings organized by the Company for the franchisees. These meetings provide a forum for communicating an exchange of ideas on industry updates and general improvement strategies, presented by the Company's senior management and from time to time from outside consultants.

Franchisees have the opportunity of meeting their peers from our other franchise locations and benefiting from exposure to each other's experience.

BUYING POWER
Being part of the Active Green + Ross Tire & Automotive Centre franchise program permits bulk buying discounts on tires, motor oils, automotive parts and other products including equipment.

In most cases tires are purchased directly from the manufacturers at volume discounts negotiated by the Company, including rebates earned based on individual purchased volumes as established by the Company from time to time. This translates into reduced operating costs and greater competitiveness in the automotive aftermarket.

Agreements are in place for authorized suppliers who supply the majority of the other products and services that Active Green + Ross franchisee's require. Authorized supplier agreements ensure competitive pricing, consistent products-services and in some cases, a volume rebate that is shared with the franchisee.

This buying power allows start up costs to generally be lower than non-franchised operations, therefore, increasing the opportunity for a successful and profitable operation.
EARLY TERMINATION
Each franchisee may terminate the franchise agreement by giving 60 days notice to the Company without reason whatsoever at any time during the 1st year of the agreement. As long as the franchise agreement is honored there are no grounds for termination by the Company.
INITIAL INVESTMENT
Active Tire & Auto Centre Inc. (the "Company") is looking for individuals who have a strong desire to succeed and to run their own business. Automotive experience or Canadian retail experience would be beneficial, but not essential, as training will be provided. Candidates must have excellent written and oral English language skills.

The investment required to open an Active Green + Ross Tire & Automotive Centre franchise is as follows and will vary based on location sales volume:

One Time Franchise Fee:
Letter of Credit:
Initial Inventory (approx):

Equipment (approx)
Start Up Working Capital:
Approximate Total Investment:

$ 25,000.00
$ 50,000.00
$ 75,000.00

$ 125,000.00
$ 25,000.00
$ 300,000.00
FINANCING PROGRAM:
Qualified candidates can apply for the Active Green+Ross franchise financing program with a minimum investment of $75,000.00 unemcumbered cash.
ROYALTY FEE
The franchise royalty fee currently payable by each franchisee is 6% of all Retail Sales or 3% of outside Wholesale Tire Sales.

This covers a number of continuing services provided by the Company to the franchisee. These services include:

* management assistance and training
* special purchase arrangements
* business advice
* advertising programs
* product information and training
* operating policies and procedures
ADVERTISING
Active Green + Ross Tire & Automotive Centre franchisees currently contribute 2 1/2% of their total sales to an advertising program that is controlled by an Advertising Committee made up of franchisees and company personnel. Advertising may include newspaper advertisements, direct mail, flyers, yellow pages, radio, TV and other forms of promotion as opportunities present themselves and are approved by the Advertising Committee.
WHAT OUR DEALERS HAVE SAID
I have been an Active Green + Ross Dealer for over 25 years. I have enjoyed the relationship with Active Green + Ross. Sid Spencer – Ajax and Pickering

I have been an employee and a successful franchisee of Active Green+Ross for over 23 years. Doug Moody - 38 Anne St., and now 512 Byrne Dr. (former Speedy location) Barrie.

I joined Active Green+Ross as a franchisee in 1988. I am very happy and have been successful - I receive excellent support from head office. I currently operate 2 locations 1530 Midland & 2900 Steeles Ave. Ken Khetia

My brother and I had no previous automotive experience and became successful franchisees of Active Green+Ross 25 years ago. Diana Moody & Scott Moody - 284 Adelaide St., Toronto.

I have known the president of Active Green+Ross for 30 years. Two of my sons are Active Green+Ross franchisees at 2639 Dundas St. and 1 Promenade Mall. We are thankful for the assistance and support we receive from Active Green+Ross. John Haitas

We opened our first store with Active in April 1999. We accomplished such great strides after learning and embracing their proven and developed method for success, we were able to open our second store in 2005! Today, Active Green & Ross continues to provide us with on-going support and guidance regarding all aspects of our business. The support and knowledge of their staff is truly invaluable. We are proud and grateful to be a part of the Active Green & Ross Team, and look forward to our future for store number three. Eugene Guzzi 735 Dundas St. W. & 215 Islington Ave.
NEXT STEPS
Gather Initial Information
Provide Active Green+Ross with a completed Dealer Application
Active Green+Ross will review Application
If Application accepted, schedule meeting with Franchise Dept.
Obtain Disclosure Document
Provide Deposit and Formal Application for a specific location
Create Business Plan
Obtain Financing
Schedule Training & Conversion
SUMMARY
Active Tire & Auto Centre Inc. must be certain that the individual wishing to associate with the Company has the integrity, necessary qualifications and the progressive outlook required for success. This qualification process is important in helping to ensure that both parties will enjoy all the rewards of the Active Green + Ross Tire & Automotive Centre franchise.

There is a singular pride in being an independent business person, and a great deal of comfort in knowing that you are part of a co-operative system, guided by the Company management team.

It is hoped that this information provides the prospective franchisee with enough information to be satisfied that Active Tire & Auto Centre Inc. offers the type of experience, leadership, growth, potential profitability and support that may make a relationship with our Company both rewarding and successful.

Parties interested in obtaining an Active Green + Ross Tire & Automotive Centre franchise can contact:

Franchise Department
Active Tire & Auto Centre Inc.
580 Evans Avenue
Toronto, Ontario
M8W 2W1

Phone: (416)255-5581
Fax: (416)255-4793