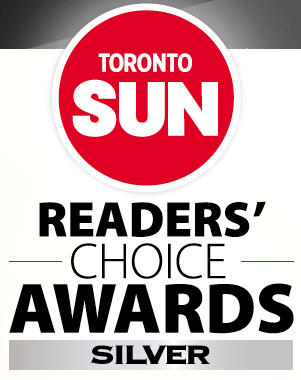 At Active Green+Ross we realize you have many choices when it comes to the service needs of your vehicle, and we are sincerely appreciative for being named silver place winner in the favourite tire store category, and bronze winner for favourite oil change service in the Toronto Sun Readers' Choice Awards. 
Personalized service and expertise from the "Tire Experts" comes natural to the Active Green+Ross service advisors, franchisees, and technicians. When a customer deals with their neighbourhood Active Green+Ross location, in most cases they will deal directly with the owner of the business.
Although no formal studies of the Ontario tire market have been completed, Active Green+Ross is recognized as one of the top companies in terms of market awareness with respect to the retail sale of tires. This is clearly attributable to the length of time that the Active Green+Ross name has been operating, as well as the standout quality of their marketing, products and services.
In addition to selling tires, wheels and tire accessories, Active Green+Ross provides full mechanical services including oil changes, brakes, wheel alignments, wheel balancing, tune-ups, suspension and shocks, cooling systems, air conditioning, emission testing (at most locations) and exhaust systems. Combining a thorough preventative maintenance inspection process with these services, Active Green+Ross is poised to offer a full range of services to the existing client base, as well as new customers.
At Active Green+Ross we promise to match and beat any competitors' quote on tire brands such as Michelin, BFGoodrich, Uniroyal and Yokohama. At the same time we can source a range of brand name tires to suit the consumers' need, and in any price range. We service all makes and models of vehicles! Our user friendly web site activegreenross. com makes it easy to look up the right tire for your vehicle request a quote, or book your next appointment.
Born in the mid 1930s, Green+Ross had already made a name for itself when Active Tire and Auto Centre was established in 1983. By the 1990s, the two businesses joined forces, blending together their services and tire expertise to create the ultimate in automotive care centres. Today, the store location count is 73 and growing, and they have been a proud member of the Canadian Franchise Association for 28 years. For franchise Inquires call 416-255- 5581.
Most of all Active Green+Ross is a proud sponsor of many community events across Ontario, check out the community event section of our web site to see the long list of community involvement.