Are you possibly driving on worn shocks and struts?
Like most safety-critical chassis components, shocks and struts do wear out over the course of normal operation.
Both shock absorbers and struts keep your vehicle from bouncing around. Though the two terms are often used interchangeably — and they basically do the same thing — shocks and struts are different parts. A vehicle either has a shock or strut at each wheel — not both — and a shock cannot replace a strut, nor a strut replace a shock. Some vehicles have struts on the front axle and shocks in the back.
The rate of wear depends on a wide range of variables, such as road and environmental conditions, your driving style, and vehicle load. Some of the negative effects include reduced steering precision and stopping performance and/or vehicle stability which might not be easily recognized in normal driving conditions.
In addition to these safety concerns, worn shocks and struts could negatively affect driver and passenger comfort, rate and pattern of tire wear, dynamic wheel alignment, brake life, and the durability of other chassis parts.
Replacing worn or inadequate shocks and struts will help maintain good ride control, as they:
Control spring and suspension movement.
Provide consistent handling and braking.
Prevent premature tire wear.
Help keep the tires in contact with the road.
Maintain a correct wheel alignment.
The primary purpose of struts and shock absorbers is to hold the tire on the road and control the vehicle's stability. The spring is what holds the car up in the air and absorbs the impact. Together, your vehicle's suspension system is what ensures a smooth, comfortable ride. When you push down on your vehicle, it should immediately return back to its level position. If it rocks, it could be an indication that your shocks are bad in the back (and maybe all around). Other indications that it might be time for a replacement is when you go over a bump in the road and your vehicle starts bouncing around and shaking, if it sways when you take a turn or "rocks" when you come to a stop.
Have your vehicles suspension inspected at your local Active Green+Ross . Our #1 priority is to ensure your vehicle lasts longer and performs better. Trust your local Tire & Service Experts and SCHEDULE appointment TODAY!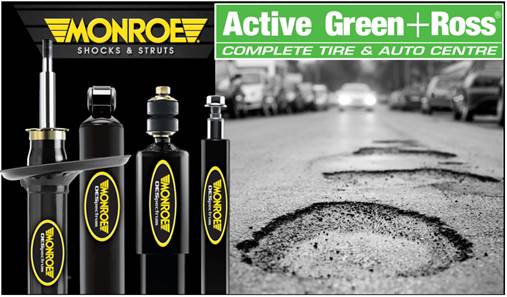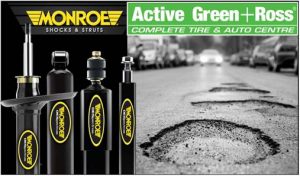 Active Green+Ross is a main supplier and servicing dealer of Monroe shocks and struts, premium suspension products since 1916