Ontario Tire & Auto Service Centre Community News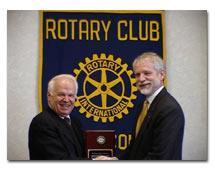 The Etobicoke Rotary Club was pleased to award their 1st ever Paul Harris Sapphire Award to Mr. Ralph Chiodo. The Paul Harris Sapphire award is awarded to a Rotarian who has proven themselves to be a significant part of the community providing excellence and leadership in the service of others.
Ralph has been a Rotary member for over 10 years and has served as President from 2000 to 2001. Ralph is the proud chairman of the annual Toronto Canada Day Ribfest.