Tire Store and Auto Center Franchise
In North America, franchising has become a popular way of getting into business. This trend has been attributed in part to the general principle behind franchising, which is:

"start with a system that has a track record, a defined market and controls in place. One that demonstrates the potential to provide a good profit margin in purchasing and has an aggressive advertising strategy. Combine these elements with the selection of a motivated franchisee, whose on-site presence assures responsible control, and the franchise should succeed."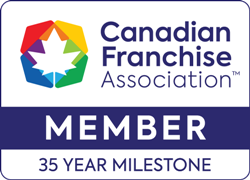 This principle will hold true with a total commitment by all the 'franchise team' members and a continual open line of communication with the franchisor.

Active Green + Ross Tire & Automotive Centre is proud to be a firm proponent of this concept and we invite you to become part of our franchise team.

2021 marks Active Green+Ross's 35th year Milestone as a member of the Canadian Franchise Association.
THE COMPANY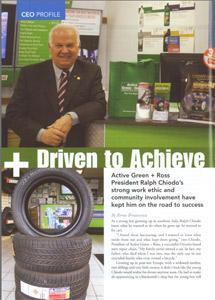 Active Tire & Auto Centre Inc. currently has locations in the Greater Metropolitan Toronto area and extends east to Ottawa, North to Barrie and West to London, and is a growing independent group of tire and automotive service centres. The Company's founder and President, Mr. Ralph Chiodo began in the automobile service business in 1959. Active Tire began franchising in 1983 - and by 1992 was operating 22 locations in the greater Toronto area.

In early 1993 the operations of Green + Ross were purchased. It had been in a similar business in the Toronto and surrounding area since 1930. In late 1995 the two companies were merged to become Active Green + Ross Tire & Automotive Centre. All locations now trade under the name of:
Active Green + Ross Tire & Auto Centre
Although no formal studies of the Metropolitan Toronto tire market have been completed, Active Green + Ross is recognized as one of the best known companies in terms of market awareness, with respect to the retail sale of tires. This is clearly attributable to the length of time that the Active Green + Ross name has been operating, as well as the good reputation and quality of our products and services.
In addition to selling tires, wheels and tire accessories; Active Green + Ross Tire & Automotive Centre franchises also provide a line of name brand auto parts and motor oils. Special emphasis is placed on Regular and Preventative Vehicle Maintenance Areas such as brakes, suspension and front end repairs, wheel alignment, tire balancing and lube & oil changes.
Combining a thorough Preventative Maintenance Inspection process with these services, Active Green + Ross is poised to offer a full range of services to the existing computerized client base as well as new customers.
Active Green + Ross sells a wide range of tire brands Including:

In addition, we have private brand tires named "Active" or "Green+" manufactured by one of the major tire company's Custom Brand Division.
The wide variety of available tire brands attracts customers who appreciate the convenience to compare many tire brands at one location and obtain professional advice and service.
An Active Green + Ross Tire & Automotive Centre franchise offers individuals an opportunity to be in business for themselves while benefiting from the experience of the Company's management team.
IS FRANCHISING A WISE INVESTMENT
Franchising is considered the best method of getting into business today because you are joining a proven system which is capable of providing all the support and experience which is needed to be successful in todays' environment.
In the final analysis, when you buy a franchise while you are in business for yourself, you are not in business by yourself, because you have the ongoing support of the franchisor.
The other advantage of operating in a franchise system is the fact that you can contact other franchisees within the system and also obtain their advice and counsel. This is seen as a tremendous advantage because like yourself, other franchisees are striving to improve the return on their investment.
Parties interested in obtaining an Active Green + Ross Tire & Automotive Centre franchise can contact:
Franchise Department
Active Tire & Auto Centre Inc.
580 Evans Avenue
Toronto, Ontario
M8W 2W1
Email: This email address is being protected from spambots. You need JavaScript enabled to view it.
Phone: (416)255-5581
Fax: (416)255-4793