Castrol Oil Promotion
Starting Monday June 17th 2019, Active Green + Ross is pleased to announce it is offering your chance to win a Castrol Vintage Cooler with the purchase of a Castrol Oil Change at Active Green + Ross.

FREE* Castrol Roadside Assistance
Purchase a Castrol EDGE or GTX MAGNATEC synthetic oil change and you will drive away with 6 months of FREE* Castrol Roadside Assistance. AND, it can continue to be free for you as long as you keep coming back to Active Green+Ross**!
YOUR CHANCE TO WIN† A CASTROL VINTAGE COOLER!
When you purchases ANY Castrol oil change (EDGE, GTX MAGNATEC, GTX High Mileage and/or GTX Ultraclean), you will automatically be entered into a draw to win† 1 of 2 Castrol Vintage coolers from the Active Green+Ross location you received your oil change at. Offer ends on August 15, 2019.
Please see the Castrol Oil Contest Rules for more information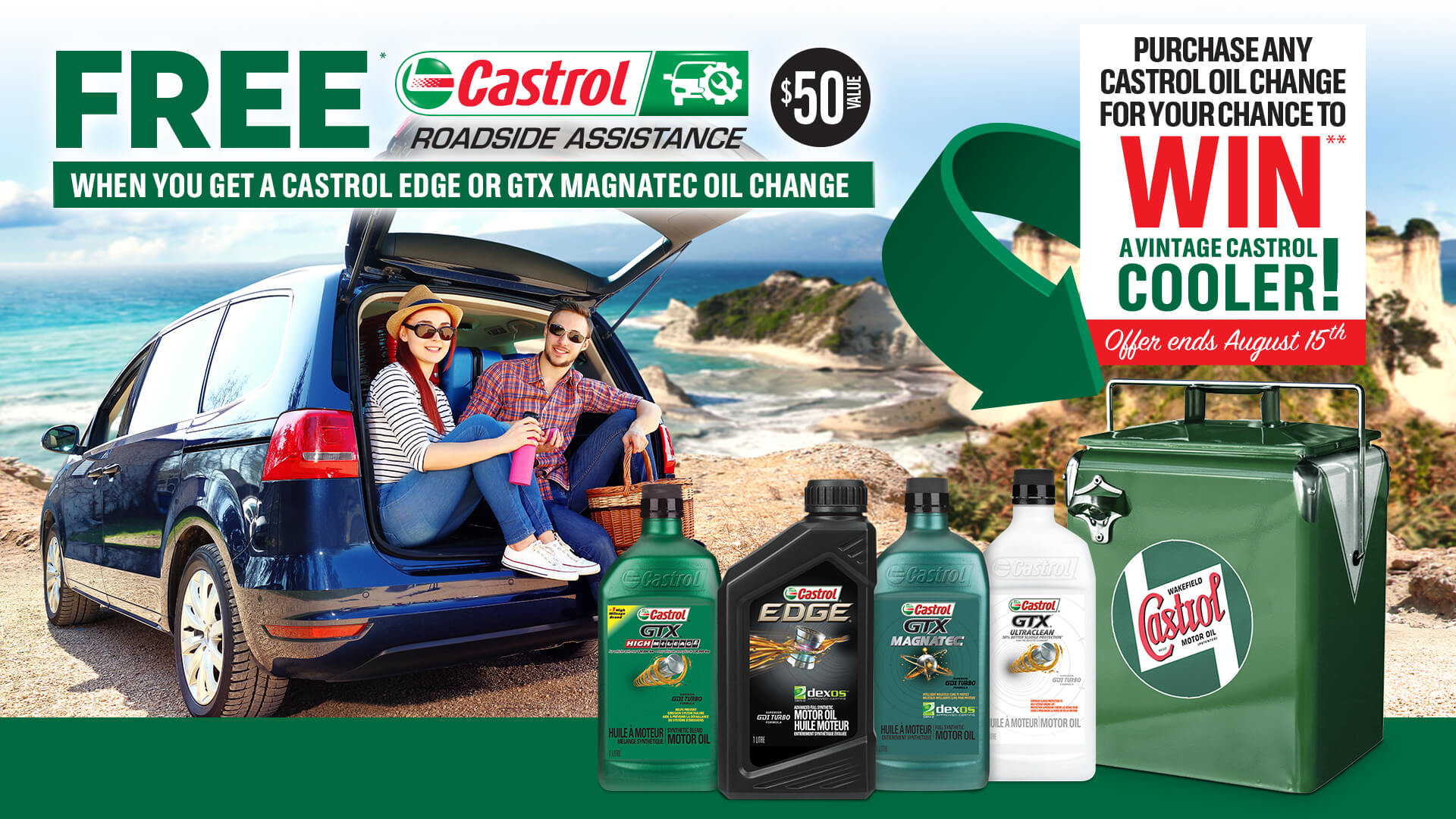 Legal:
*Free for all consumers with purchase of a Castrol Synthetic oil change (EDGE and/or GTX MAGNATEC) at participating locations. Castrol Roadside Assistance provided by NSD Global LLC, located at 800 W. Yamato Road, Suite 100 Boca Raton, FL 33431. Cannot be combined with any other offer, available while quantities last.
**Approximately 6 months after their oil change, your customer will be directed back to your location for another oil change and to renew their roadside assistance. If you choose to renew their roadside assistance, you will be responsible for the cost. Additional 6 month roadside kits can be purchased in bundles of 50, for $2.50 per subscription.
†Two (2) Vintage Castrol Cooler with an approximate retail value of $75 each will be randomly awarded.
Limit one (1) Castrol Vintage Cooler Prize per person and per household. Limit one (1) draw entry per person per draw.