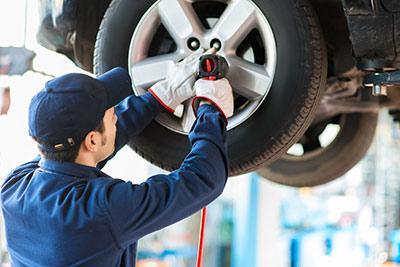 Tires are your car's critical connection to the road and can affect your ride, handling, traction and safety.
Maintaining tire balance and wheel alignment reduces tire wear and improves handling and fuel economy.
To get a new set of tires, please use our interactive Tires by Vehicle lookup tool to find the right tires for your vehicle.
If you are just looking for a great set of wheels then please use our Wheels by Vehicle lookup tool.
We are the tire experts. We will not be undersold on tires!
Why Do I Need This Service?
Tire replacement is necessary if the tread depth is below the minimum legal requirement or the sidewalls are severely cracked or punctured.
In some cases, tread punctures cannot be repaired. Normal wear and road conditions can take their toll on your car's steering and suspension system, and can disrupt the alignment settings.
Ball joints, tie rods, steering arms, bushings and other suspension parts all wear gradually over time.
Springs will gradually sag with age and kilometres driven. All of these will affect alignment angles, so adjustments need to be made or components replaced to restore optimum handling.
Source: Be Car Care Aware