Ontario Tire & Auto Service Centre Community News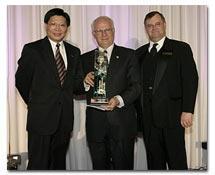 The Etobicoke Chamber of Commerce is pleased to announce the selection of Mr. Ralph Chiodo as the Etobicoke Chamber of Commerce Business Person of the Year for 2004. Ralph is a man with drive. At the age of 23 he owned and operated his first automotive service centre. Today Ralph owns the Active Green + Ross Tire & Automotive Centres, as well as Peel Chrysler Jeep Dodge and his own construction company.
Ralph also is an active member of the Rotary Club of Etobicoke, a member of the board for the Trillium Health Centres, and works with the South Etobicoke Regeneration Project, the Holy Angels Recreation Association, and other local charities.