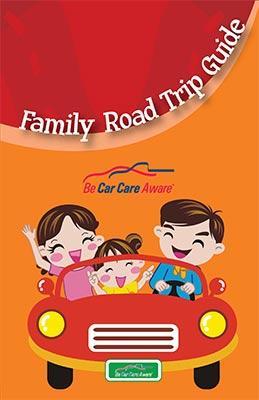 Family Road Trip Guide for Summer Driving
Getting the car ready for family travel can take as little as 10 minutes says racecar driver and Be Car Care Aware spokesperson Kelly Williams. Here she lays out the 10-minute check-up to help drivers ensure vehicle safety and reliability before heading out on a road trip.
Summer is fast approaching and Canadians will soon dust off the station wagons and sedans and get ready for a summer road trip. One question they should be asking themselves – 'Is my car ready for the voyage?'
This quick pre-trip inspection will help reduce your chances of costly and potentially dangerous road trouble. Especially important, it provides peace of mind. While no inspection can guarantee a car's performance, it's comforting to know proper precautions were taken.
Check all fluids: There are several fluids that require attention, including engine oil, power steering, brake and transmission fluids and windshield washer
solvent and antifreeze/coolant.
Check hoses and belts: A belt that fails can affect the electrical system, air conditioning and power steering, as well as the cooling system. Cooling system hoses may be deteriorating from within, so old hoses and clamps in marginal condition might need to be replaced.
Check the tires: Check tire inflation and also inspect the tread for uneven wear, (indicating the need for wheel alignment). Also look for bulges and bald spots.
Check lighting: Check all exterior and interior lighting to identify any problems. Car Care Canada vehicle check-up lanes revealed an overall failure rate of more than 25 percent in the lighting category. When your vehicle's lighting is defective, other motorists may not get the message that you intend to stop or turn. The end result could be disastrous.
Check the wiper blades and make sure the windshield wipers are working properly: Keep the reservoir filled with solvent. Worn-out wipers should be checked and replaced if needed prior to a road trip. As a rule of thumb, wipers should be replaced every six months..
---
For more information please read the Be Car Care Aware Family Road Trip Guide.
To find out more information on the Be Car Care Aware program, please click here.