Ontario Tire & Auto Service Centre Community News
The following news articles feature many of the community initiatives Active Green + Ross has been involved with in the past.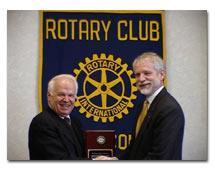 The Etobicoke Rotary Club was pleased to award their 1st ever Paul Harris Sapphire Award to Mr. Ralph Chiodo. The Paul Harris Sapphire award is awarded to a Rotarian who has proven themselves to be a significant part of the community providing excellence and leadership in the service of others.
Ralph has been a Rotary member for over 10 years and has served as President from 2000 to 2001. Ralph is the proud chairman of the annual Toronto Canada Day Ribfest.
For six years Pasta Festa has united Italian physicians from Trillium Health Centre, Board member Ralph Chiodo, President of Active Green + Ross Tire & Automotive Centre, Ethel Taylor, volunteer and Board member 'extrordinaire' and a community of generous supporters who enjoy good wine, good food, great company and a wonderful cause.

The results have exceeded all expectations! Pasta Festa surpassed its half-million dollar pledge to the Trillium capital campaign in 2007. This is recognized on a plaque in the Main Reception of Trillium's Surgicentre at West Toronto – the largest free standing day surgery centre in North America.

Pasta Festa has now completed its 7th year in support of programs and equipment at Trillium. The Foundation is deeply grateful to Ralph, Ethel and all those who participate in this festive, annual event. When Trillium docs exchange their scalpels, stethoscopes and scrubs for serving spoons and aprons and pitch in to help with the feasting and fundraising – all the ingredients make for a tremendous evening.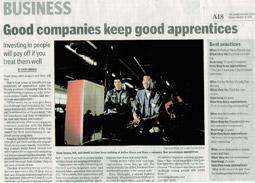 Active Green + Ross receives Skilled Trades Alliance Employer of the Year Award on Friday Marcy 9, 2007 in the Hamilton Spectator. Please click here to see the article.
October 17, 2010, Chrysler Canada donated Canada's first Fiat 500 to the live auction at Toronto's 17th annual Venetian Ball. The ball was held at the Metro Toronto Convention Centre with all proceeds benefiting Villa Charities.

"Chrysler Canada and Fiat are proud to donate Canada's very first Fiat 500 to support Villa Charities," said Reid Bigland, Chrysler Canada President and CEO.
About Villa Charities
Since its formation in 1971 to provide culturally sensitive care for an elderly Italian-Canadian population, Villa Charities has extended its mandate to include support for individuals with intellectual disabilities and mental illness. Building on its rich Italian-Canadian heritage, and by living life with Italian passion, the Villa Charities family of organizations has grown to include Villa Colombo Services for Seniors, Columbus Centre, VITA Community Living Services, Mens Sana and Villa Colombo Vaughan Di Poce Centre. Recognizing its relevance across generations, Villa Charities is launching new initiatives to promote quality of life, health and wellness, youth engagement, the creation of new knowledge and investment in new technologies.
Of course the successful bidder was Ralph Chiodo founder of Active Green+Ross.
Active Green + Ross
Hits It Out of the Ballpark for Charities
On Sunday, May 16th, 2010 Active Green + Ross presented cheques to both Villa Leonardo Gambin Charity and the Christina Ciccolini Bone Marrow Fund prior to the Toronto Blue Jays game. It was a winning day for all concerned: the Jays beat the Texas Rangers;and two local charities were generously supported. Also lucky Active Green+Ross customers received free tickets to the game.